Dover Leisure Centre Update
New Leisure Centre
---
---

We want local people to have access to modern leisure facilities to help them lead healthier lifestyles, realise their sporting ambitions, or simply have fun keeping fit!
We're committed to delivering a new leisure centre to meet the needs of residents now and in the future and to support the growing population in the district.
We've set ourselves an ambitious goal to deliver the best leisure centre possible within an affordable budget.
Having recently completed a detailed indoor sports facility strategy and initial feasibility studies we are now presenting our preferred location, concept designs, and details of the facilities you can expect to see in the new leisure centre.
We want feedback from residents, sports clubs and organisations, and any other interested groups before we move on to more detailed planning and development of the project.
This is your opportunity to provide comments for consideration. Please review the plans and tell us what you think by completing our short questionnaire.

Proposed Location
We're proposing to build the new Dover Leisure Centre on a site in Whitfield. This will enable us to build a much bigger leisure centre with more facilities and improved car parking capacity.
The current Dover Leisure Centre site in Townwall Street is too small, as were the other sites in the town centre that were considered during a detailed site options appraisal.
Whitfield is accessible for residents of Dover and the wider district. There will be free parking for a minimum of 250 vehicles, and we will work with bus operators to develop improved public transport accessibility.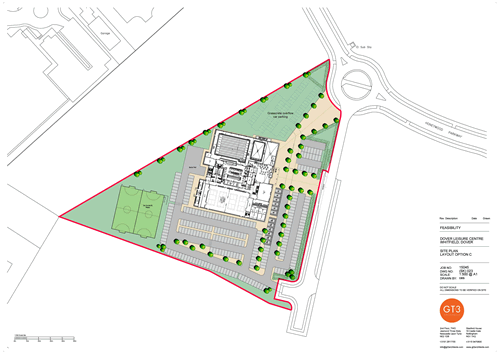 Enlarge Site Plan (pdf)
Proposed Facilities
The new Dover Leisure Centre will contain a much wider range of state-of-the-art sport and leisure facilities. The following table contains a list of the activity areas proposed in the new centre compared to those in the existing Dover Leisure Centre.
|  Activity Areas | Current | Core Option | Change Compared to Current |
| --- | --- | --- | --- |
| Main pool | 6-Lane 25m pool | 8 lane x 25m pool | Increase |
| Spectator seating | 140 person capacity | 250 person capacity | Increase |
| Learner pool | 12.5m x 7.5m Learner pool | 15m x 8.5m with moveable floor | Increase |
| Sports hall | 8 courts | 4 courts | Decrease |
| Health and fitness | 37 stations | 120 stations | Increase |
| Multi activity studio | 1 x studios | 2 x studios | Increase |
| Multi purpose room (ground floor) | None | 1 x room for meetings / parties / soft play / crèche etc. | Increase |
| Spin studio | None | 1 x studio | Increase |
| Squash court | 3 x courts | 2 x courts | Decrease |
| Interactive climbing | None | Included | Increase |
| Small sauna and steam room | Included | Included | No change |
| 2 x five a side football pitches (outdoor 3G) | None | Included | Increase |
| Café | Included | Included | No change |
| Parking spaces | 95 spaces | 250 minimum | Increase |
Proposed Design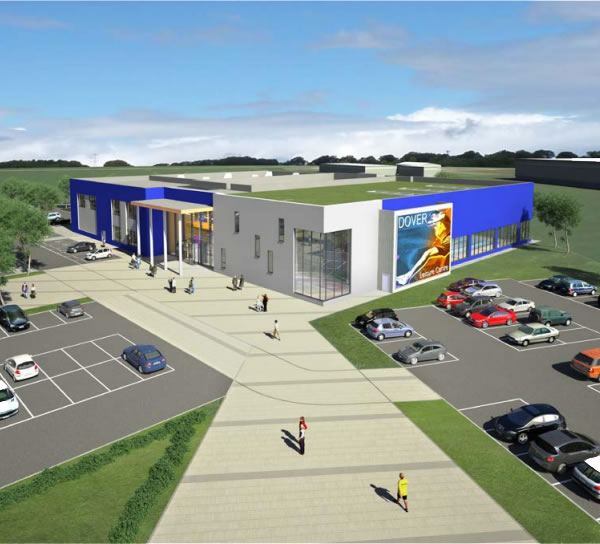 The proposed floor plans for the new centre are shown below. These show the arrangement of facilities on the ground and first floors.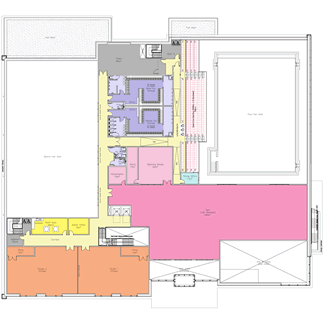 Enlarge First Floor Plan, pdf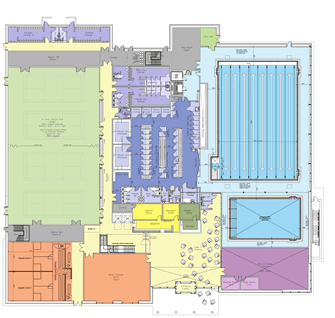 Enlarge Ground Floor Plan, pdf
Proposed Timescales
September 2016: Council approval for plans and funding
March 2017: Planning application submitted
August 2017: Building contractor appointed
October 2017: Construction starts
November 2018: Construction complete
Early 2019: Centre opens
Continuity of Service
We will work with the centre management to minimise disruption to users. There will be full continuity of service from now until the new centre is opened. The existing centre will only be closed following the opening of the new centre.
Your Views
This is your opportunity to shape the proposals for future provision. We want to know what you think about the plans before we move on to the detailed planning stage.
Survey closes 24 July 2016
RELATED POSTS